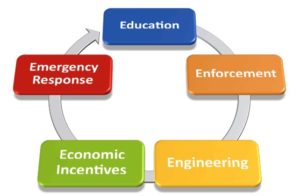 According to NFPA 1300, Community Risk Reduction is a process to identify and prioritize local risks, followed by the integrated and strategic investment of resources to reduce their occurrence and impact. Kittitas County Fire Protection District 6 takes a comprehensive approach using the 5E's of CRR to determine what the risks are to the community and develop plans to reduce those risks.
Through the collaboration of KCFPD6 staff and the community, together we will identify risks and improve preparedness for emergency events.
---
KCFPD6 Risk Reduction Programs
Life Jacket Stations & Water Safety
We actively promote water safety in the community by providing life jackets at our local lake. We help fit jackets for both adults and children and advise on the dangers of the lake.

Community Medicine
The Community Medicine Program provides non-emergency assistance to help vulnerable and under-represented residents access to social services and community resources, at the county, state and federal levels in the most cost effective and efficient manner possible.
Car Seat Checks
District 6 has several certified car seat technicians. Email Captain Bertschi at [email protected] to obtain a free car seat check and ensure your child is properly restrained in the car seat or booster seat.


Address Signs
Help us find you! District 6 is providing reflective address signs for properties within our district. Please sign up for a reflective address plate at: https://kcfpd6.com/address-signs/




Wildland Urban Interface
By partnering with DNR's Wildfire Ready Neighbors, we now offer ignition evaluations for structures! Multiple District 6 firefighters are trained to evaluate homes for ignition hazards. Contact: Savannah Davies


Drone
D6 has a multi-purpose drone which can be used on a wide variety of incidents, including search & rescue, fire and EMS calls. It has the ability to provide monitoring of hot spots, assess structure integrity, assist in rescuing victims, and map out topography and more. Contact: Ryan Risdon
First Aid & CPR Classes
In partnership with Kittitas County EMS, D6 has multiple instructors that can teach FA/CPR to individuals, businesses and government offices. Visit Kittitas County EMS or contact D6 EMS Coordinator Danielle Bertschi



Community Events
In additional to assisting other agencies for school and daycare educational opportunities, D6 staff regularly attend HOA meetings, tour the district proactively and attend area events such as Suncadia's Touch A Truck, the D6 Annual Open House on the 4th of July, National Night Out and the Annual Bicycle Safety Rodeo.
Adopt A Hydrant
D6 encourages residents to 'adopt a fire hydrant' near their home and keep snow shoveled away from it during the winter season. Maintaining these hydrants is key not only in the winter, but also in the summer when weeds and shrubbery overgrow and make it difficult to locate.